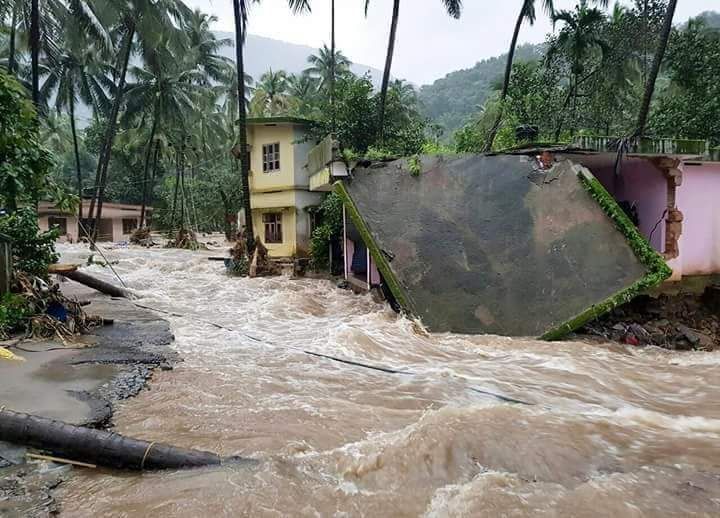 The SVP network in Kerala, Southern India has been hard at work distributing around £370,000 of funds raised by the charity in England and Wales in the wake of the monsoon floods that devastated the State.
With 33,000 volunteers, the SVP is deeply rooted in local communities and already has a vast databank of families and individuals affected by the floods. Members are living side by side with those in need, reaching the doorsteps of the poor. 
Indian SVP member Litto Palathingal has been tasked with setting up and running a centralised office in Cochin, a coastal city in Kerala, where the charity's Central Council Presidents are meeting regularly to help prioritise the distribution of the funds raised. From this office, efforts to get monies raised to the poorest of the poor are being carefully and safely coordinated.  
Litto says: "Lower income Central Councils are being given priority so that we reach the most deparate and most severely impacted people. Projects that we are giving to include housing rehabilitation with furniture, utensils, beds, but also and especially the resotoration of livelihoods."
By providing investment for machines to regenerate agrigultural areas destroyed when flood water washed away soil, the SVP is helping local Indian farmers to re-establish their daily working routine, ensuring that their debts do not build up and that they can continue to support their families. 
Likewise, the SVP is providing animals to replace the loss of livestock, thereby enabling families to engage in poultry rearing, milk and meat farming, and sell their products once again, in order to sustain themselves. 
SVP India's National President Johnson Varghese says: "At this point in time the appeal is to help victims rebuild their lives. They need safe houses to sleep, a source of income to support their families, food, livestock and help with materials like books and uniforms to send their children back to school."
Johnson continues: "The SVP's greatest advantage in Kerala is our presence in all of the affected areas. Implementation of emergency aid plans  is carried out by our network of 33,000 volunteers linked to parishes across the State.
"As the National President I can assure the good souls in Britain that SVP India are ensuring the help reaches the people who need it most."
Joseph Soares, SVP National Treasurer in India comments:  "I wish to take the opportunity to thank you all for your constant support to the SSVP in India. I am sure the monetary and spiritual support to our brothers in distress in Kerala will open the windows of heaven to all those who have reached out to the cries of the suffering humanity."
The Catholic press have published a number of articles featuring the SVP's work with flood victims in Kerala.
A news piece in The Catholic Times can be read here.
A separate news piece published in Indepedent Catholic News can be read here.
Our SVP Overseas Aid Team continues its efforts to raise money for the SVP in India to enable them to assist those affected by the floods.
Can you help?  
You can donate here via our donation page or by clicking the donate button below. Please select Kerala Emergency Appeal from the drop down options list to ensure your contribution is paid to the appropriate fund.
Cheques should be made payable to SVP England and Wales. Please include Kerala Emergency Appeal on the back of your cheque and send it to:
Kerala Emergency Appeal
SVP England and Wales
Allenby House
Rees Way
BRADFORD
BD3 0DZ
All donations to this appeal are processed and forwarded to the SVP in India without deduction of any kind. 
Thank you for your support. For further information on how to donate please contact Rachael Crookes